Holden Welcomes Gray Thompson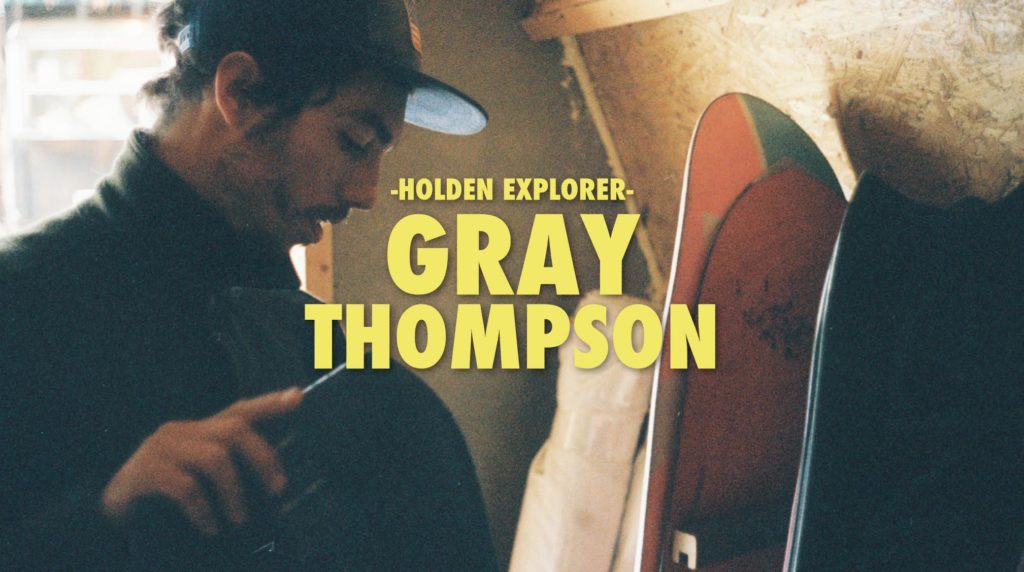 Holden is proud to announce the addition of Gray Thompson to its team of Explorers.
Gray commented, "I am so happy to have connected with a brand that shares my passion for this entire outdoor lifestyle, and of course snowboarding. I couldn't be more excited to contribute to Holden's history." He went on to say, "My interests are pretty broad; besides my active pursuits, I also love film-making, and developing technical, eco-friendlier garments. I am excited to contribute and co-create with Holden across many levels."
"We are so happy to have Gray represent us as an Explorer due to his great vibes, style and love of life," added Holden co-founder Mike LeBlanc. "Gray is a one of those multi-talented cats that just gets it. You can see it in his style during a multitude of outdoor pursuits, in his filmmaking, and in his everyday life. We intend to give him a diverse platform to explore and grow his talents and interests."
Gray is currently bunkered away awaiting winter while finishing touches on Warp Wave's "Aurora Boardealis" film, releasing October 2016. For more info on that, visit www.warpwave.com. His other sponsors include United Shapes & Arcade Belt Co.
Gray joins the current roster, which includes the likes of Fredi Kalbermatten, Brendan Gerard, Cale Zima, Gus Engle, Mikey LeBlanc and Chad Otterstrom, among others.
ABOUT HOLDEN
Based in Venice Beach, CA and founded by renowned professional snowboarder Mikey LeBlanc and designer Scott Zergebel, Holden grew out of a desire to bring current fashion to the mountains. Holden's products are the expression of our pursuit to deliver Timeless Quality™ garments; Market-leading style combined with cutting edge function, eco-friendlier options, and our celebration of everyone's individuality where we say, "Thank you for being you."
Holden outerwear is a widely recognized leader in style trends, fabric and technical innovations, and environmentally committed outerwear. From inception, Holden has sought a singular goal: creating products that make people happier and healthier in the pursuit of a "Life well led." For more information, visit our website at: www.holdenouterwear.com.
ONLINE VIDEO: https://vimeo.com/184754026